"Outstanding Service!

On purchasing our first home built in the 60's and very much in need of updating we didn't know where to start. We called Simon at Eames Builders about fitting a new Kitchen and what steps we should take first, he organised for a designer to come over and we picked a Kitchen which we are very happy with. The fitters Nigel and Jason were very courteous and professional. We also had a Painter and Decorator again organised by Simon to come over and paint around our newly fitted Kitchen who did an amazing job. Our Friends and Family are always complementing us on the results.

Simon has been extremely helpful from start to finish, answering all our questions promptly and expertly, he kept in regular contact with us to ensure that we were happy with the work in progress and the finished Job. Both Simon and Joe have been a pleasure to deal with proving themselves to be reliable and honest. I couldn't possibly praise Eames Builders enough and would absolutely use their services again in the future.

Thank you for everything."

Sarah and Alan.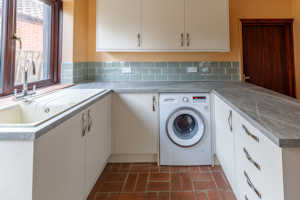 "Simon and his team have carried out work for us previously and we returned to using his services without hesitation. On this occasion we wanted out utility room refitted with new and additional units and sink.

The work was carefully discussed and planned beforehand with advice and additional ideas freely given. The quality of work from all those involved is clean and meticulous. Any issues arising during the job are brought to our attention and resolved without issue. The work was carried out in the promised time frame and we are extremely satisfied with the final result. The whole room is much improved with more storage and practicality. We would certainly use Eames Builders for future projects again."

Helen & Paul
"From our first contact with Simon and Nigel regarding our loft conversion it was apparent that they have extensive experience and Knowledge of their trades. They are a small firm with friendly, honest and trustworthy attributes. Their standard of workmanship and the finish of the job was completed to a very high spec. We never felt rushed into decisions at any point during the build, time was always taken when establishing what we would like and if it was achievable then it would happen. As a team they would work through any issues/problems that were encountered (our bathroom had a few!) until a solution was found. We were also reassured that we could contact them at any time to discuss the work if we needed to which we did.

The other trades that were part of the job (electrician, plumber and plasterers) along with the Building Regulations Officer were all coordinated by Simon. All worked hard and their work was completed to a high standard.

We would like to thank them all for their hard work and support during a few weeks of upheaval which will now provide us with many years of comfort in our family home."

The Coles Family.

"We have been impressed by Simon and his team from start to finish. Building work is always disruptive, especially with two young children however the team worked around us to minimise the impact (including partitioning off the building site - very helpful with inquisitive children). We really valued Simon's knowledge and advice, which has ensured that our extension has enhanced the space inside and blends in with the existing house outside. At every step of the build process, we were kept informed of what was happening and who would be on site. Everyone that came on site over the weeks were extremely friendly and we have been impressed by the quality of their workmanship (and neatness). We would not hesitate to use Simon and his team again for any further projects.

Thanks for all yours, Nigel's and Jason's hard work in completing our extension."

David, Jackie, Joshua and Jacob

"Simon and Joe project managed my Kitchen remodel from start to finish, carrying out the building works as well overseeing the plumbing, electrics, kitchen suppliers and fitter. I'm absolutely delighted with the result. They are trustworthy, reliable, tidy and communicated with me every step of the way, ensuring I was happy throughout the process. I wouldn't hesitate to recommend them to others and I'm even getting a quote for an Extension. Thank you to the Eames Builders Team!"